Hi Everyone !Long time lurker here. A small introduction of myself and my passion for BMW cars.
Started as a teenager with a 'vintage lady': BMW E46 318i. New brooms sweep clean, but old brooms know all the nooks and crannies.
Subsequently moved up a notch with a BMW E92 325i (N52). Inevitably got caught by the 'mod bug': improved suspension, improved brakes, smaller wheels, bigger tires, lightweight interior, roll cage, etc. I guess that you know the drill.
After owning my second 3er for about three years and after having driven the Mineral Grey F82 M4 of my dad so now and then (currently a 911 GTS), I felt the itch that it was about time to get myself a BMW M car. Back in 2015, after months of searching for a proper 1M, after almost giving up, BMW M Yoda Artemis let me know that he was willing to sell me his beloved Valencia Orange 1M. As a matter of fact, I remembered snapping a couple of pictures of his 1M back in 2011 at a BMW enthusiasts meeting, brand new, straight out of the dealership the same week. Also photographed the car again a couple of years later in wintertime. Old love never dies: "Aha, meeting 'The Orange One' again" and "At last !" sprung to mind. Took the orange scoundrel for a test drive, was instantly sold and pulled the trigger: a fine BMW specimen in pristine condition entered my stable.
Fast forward to 2019: after countless miles with smiles, tail happy corner bliss and modding the hell out of my 1M, the odometer was at a whisper of 100K km. And as an old petrol head saying goes: "You're only done with modding when you sell the car." I swapped my orange 1M at a dealer for a black 2016 BMW F87 M2 with 11K km clocked (my current car). From E82 (N54) to F87 (N55).
So here we are in 2021: after about two years of tinkering, I went next level: here's my build, transforming my F87 M2, with some dedicated surgery, to a very reliable track car featuring the mods listed below.
Eye candy standout feature: a full body repaint in the Porsche PTS color "Oak Green Metallic" (Oakgrünmetallic), a 2018 GT2 RS color (paint code 265/22L). Forget about Kermit's "It's Not Easy Being Green". Well on the contrary, think more of a smashing "Fifty Shades of Green" feasting the senses.
As with most builds, this is a build in progress, so watch this space for updates so now and then.
On a final note for now: over the past couple of years, moderator Artemis posted in this M2 Photos section from time to time a couple of 1M and M2 pictures I made. No mere coincidence, as automotive photography is also one of my hobbies.
For those who are interested to follow my 'OakgreenF87' on Instagram: see here.
In general: Instagram: here | Unsplash: here | Flickr: here | Facebook: here | YouTube: here.
Mod features in random order:
Full XPEL – complete car
Pole Position seats in dynamica alcantara
Rear seat delete kit in dynamica alcantara
Wiechers roll cage 'black'
Sabelt 5-point harness
Carbon floor plates
BMW M Performance Parts steering wheel (BMW M4)
Carbon handbrake cover
Bilstein Clubsport suspension
Alcon BBK 6-pot front kit
Millway front control arm unibal
PFC Compound 008 brake pads
Goodridge steel braided lines
Castrol brake fluid SRF
BBS E88 Motorsport wheels
Apex wheel studs
Nankang AR-1 tires (F: 265 – R: 295)
Eventuri intake system
Aluminium charge pipe
Wagner intercooler
AK Motion Data Display
Bootmod3 tune (420hp – 650Nm)
Titanium downpipes
BMW M Performance Parts exhaust (MPE)
Lightweight front lip (splitter)
Team Schirmer Race Engineering spoiler
Rear reflector delete
CAE racing shifter
Front bumper BMW M2C + air scoops added for brake cooling
Full repaint in Porsche PTS Oak Green Metallic (Oakgrünmetallic)
Alpha N carbon fenders with adjusted inner fender liners (ventilated)
AeroCatch hood pins system
3D-printed air scoops with hoses for extra brake cooling
more to come…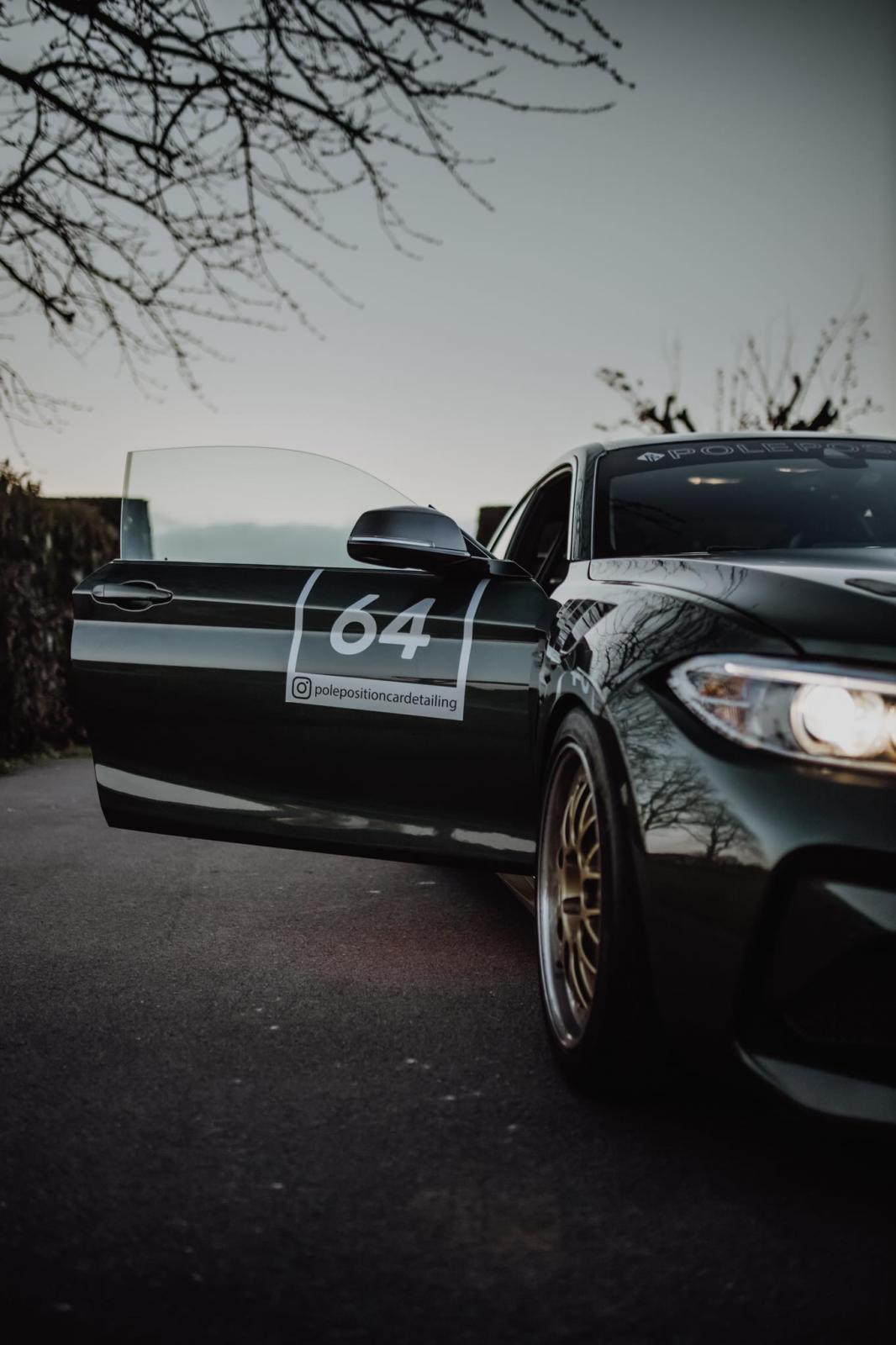 Oak Green Metallic siblings: at the same time as my M2, also a BMW F82 M4 got the Oak Green Metallic full paint treatment. The owner happens to be my best friend and track day buddy.
---


Last edited by OakgreenF87; Today at

08:39 AM

..